23 octobre 2014
4
23
/

10
/

octobre
/

2014
13:05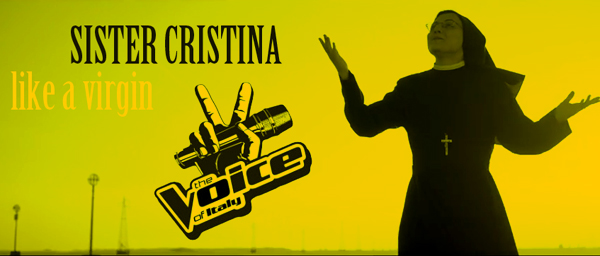 Soeur Cristina la gagnante de The Voice Italie a choisi "Like a Virgin" de Madonna pour son 1er single. Un choix étonnant et qui pourrait semblé provocateur surtout de la part d'une religieuse, mais cette dernière s'explique de la façon suivante : "C'est moi qui ai choisi de reprendre ce titre de Madonna, en lisant les paroles on découvre que cette chanson traite de la capacité de l'amour à faire de nous de nouvelles personnes, de se racheter de notre passé, et c'est comme cela que je voulais l'interpréter.
Le clip quand à lui a également été tourné à Venise comme celui de la Queen of pop il y a trente ans, mais pour un résultat beaucoup, beaucoup moins sulfureux et plus aérien.
Sister Cristina the winner of The Voice Italy chose "Like a Virgin" by Madonna for her first single. A surprising choice might seem provocative and especially from a religious, but this is explained as follows: "It is my choice to take the title of Madonna, by reading the words we find that this song is about the ability of love to make us new people, to atone for our past, and that's why I wanted to interpret it.

The clip when with him was also shot in Venice like the Queen of pop there thirty years, but for much, much less sulfur and more air loss.