27 décembre 2014
6
27
/

12
/

décembre
/

2014
06:38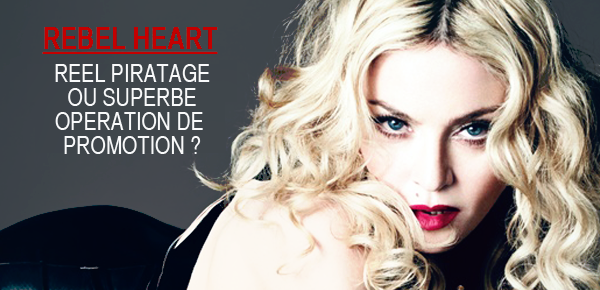 Le mois de Décembre est mouvementé pour Madonna. Résumé des différents épisodes à rebondissements qui entourent la sortie du nouvel album studio de la Queen nommé "Rebel Heart".
- Le plan de communication et de marketing était clair à la base pour Madonna, le lead single "Living For Love" devait voir le jour en Février, le jour de la saint Valentin exactement. Devait ensuite suivre la sortie de l'album au printemps pour le mois de Mars. Madonna avait même pensé à sortir l'opus en deux parties pour exhiber deux facettes de sa personnalité.
- Mais en Décembre c'est la catastrophe ... Premier leak (piratage) les démos de "Rebel Heart" et "Wash All Over Me" font leur apparition sur la toile. Jusque là rien de dramatique il y a toujours quelques fuites autour d'un album surtout avec les moyens actuels. Mais un peu plus tard l'hémorragie continue avec les leak de 11 démos de plus !
- Un peu plus tard c'est encore 17 démos de plus qui sont mise à disposition sur le net dont les versions acoustiques de "Rebel Heart" et "Wash All Over Me" ainsi que la démos de "Back That Up Do it" un titre réalisé avec Pharrell Williams. Au total c'est donc pas moins de 30 versions démos qui voient le jour !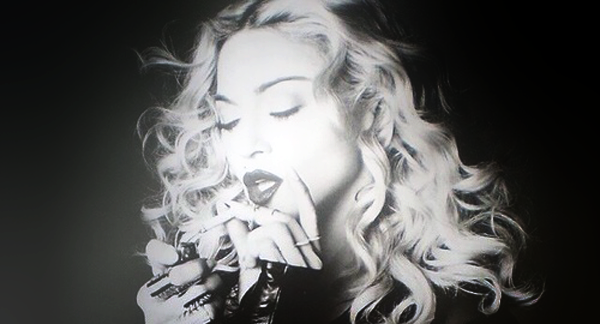 La réaction de Madonna est d'abord celle d'afficher son mécontentement sur les réseaux sociaux, n'hésitant pas à qualifier ce piratage de forme de térrorisme, de viol artistique. Elle prie également ses fans de ne pas écouter, partager, ou télécharger ces démos qui ne sont pas des versions définitives des titres.
Mais quand on se nomme Madonna on préfère passer à l'action plutôt que de se plaindre. Elle prend le taureau par les cornes et décide de révèler son nouveau bébé avant l'heure. Elle propose 6 des 19 titres de l'album sur iTunes pour toute pré-commande de l'album.C'est un carton plein pour Madonna puisque les 6 titres se retrouvent propulsés dans le top 100, le single "Living for Love" est très bien reçu par le public et la presse, et elle s'offre le luxe d'être numéro 1 dans plus 42 pays.
Depuis le dernier leak de 17 titres Madonna n'a pas eu de réaction en particulier... Ci ce n'est de lacher sur les réseaux sociaux "Les vrais rebelles pensent par eux-mêmes ! Les vrais rebelles respectent l'art". Reste à savoir quelle sera la suite sachant que d'autres titres seront disponibles sur iTunes en Février.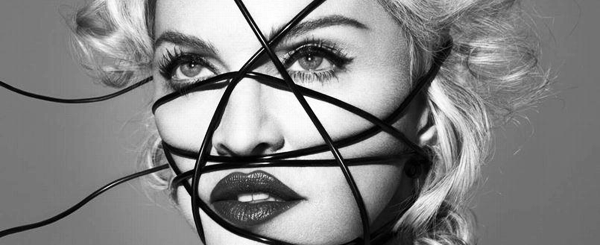 30 démos qui fuitent sur le net c'est tout de même beaucoup ! Surtout pour une artiste comme Madonna dont la sortie de chaque album est très controlée. Alors on peut se demander si tout cela n'est pas une gigantesque opération de promotion. Madonna est loin d'être une débutante naïve et sait tirer les ficelles et faire ce qu'il faut pour être présente dans les médias et qu'on parle d'elle. Si c'est donc bel et bien une opération orchestrée Madonna peut s'en féliciter car il y a longtemps que la sortie d'un de ses albums n'avait pas fait couler autant d'encre et eu autant de retombées positives.
C'est donc une affaire à suivre. Bitch ! She's Madonna !
The month of December is hectic for Madonna. Summary of the different episodes twists surrounding the release of the new studio album from Queen named "Rebel Heart".

- The communication and marketing plan was clear the basis for Madonna, the lead single "Living For Love" was to be released in February, the day of St. Valentine exactly. Then had to follow the release of the album in the spring for the month of March. Madonna had even thought out the album in two parts to exhibit two facets of his personality.

- But in December it is a disaster ... First leak (hacking) demos "Rebel Heart" and "Wash All Over Me" are appearing on the canvas. So far nothing dramatic there is always some leakage around an album especially with the current means. But later the bleeding continues with the leak of more than 11 demos!

- A little later it is still more than 17 demos that are made available on the net with acoustic versions of "Rebel Heart" and "Wash All Over Me" and the demos "Back That Up Do it" a as performed with Pharrell Williams. In total it is thus no less than 30 demo versions that are revealed !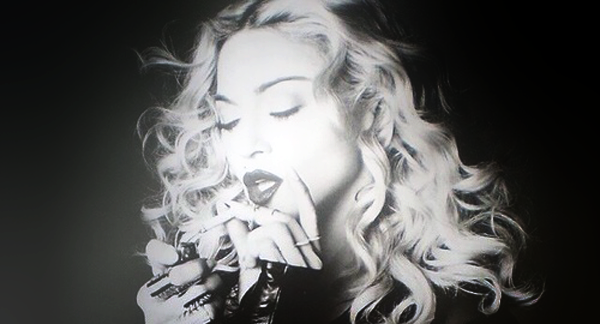 The reaction of Madonna is first of all to show his displeasure on social networks, do not hesitate to call this form of piracy terrorism, artistic rape. It also asks his fans not to listen, share, or download demos that are not the final versions of the titles.

But when one is called Madonna is preferred to act rather than complain. It takes the bull by the horns and decided to reveal her new baby early. It offers 6 of the 19 tracks on the album on iTunes for any pre-order the full album.C'est card for Madonna since 6 titles find themselves propelled into the top 100, the single "Living for Love" is well received by the public and the press, and she has the luxury of being number 1 in over 42 countries.

Since the last leak 17 Madonna songs had no particular reaction Ci ... this is to let go on social networks "Real rebels think for themselves! The true rebel respect the art." The question is what will be the result knowing that other titles will be available on iTunes in February.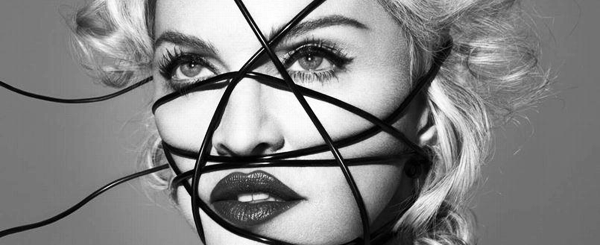 30 demos that fuitent on the net is still a lot! Especially for an artist like Madonna, the output of each album is very controlled. So one wonders if all this is not a huge promotional campaign. Madonna is far from a naive novice and knows pull strings and do what it takes to be present in the media and to talk about it. If this is indeed an orchestrated operation Madonna may be welcomed as long ago as the output of one of his albums had not spilled much ink and had so many positive benefits.

It is therefore a matter to follow. Bitch! She's Madonna !