30 décembre 2014
2
30
/

12
/

décembre
/

2014
17:52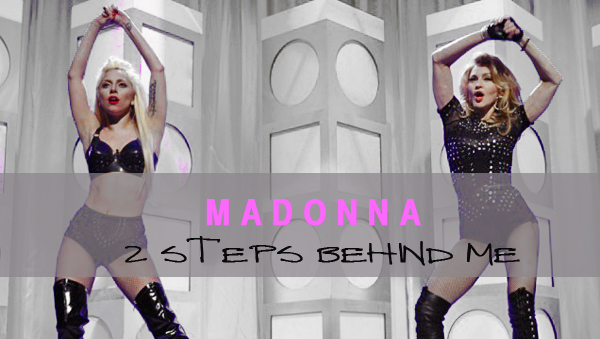 Un nouveau titre vient malheureusement de fiter pour "Rebel Heart" en version démo il s'agit de "2 Steps Behind Me" un titre produit par Aviici. Voici un passage de la chanson traduit en Français :
"Tu es une copieuse, ou est ma part ? Tu es une jolie fille, je te l'accorde, mais voler ma reçettte c'est moche. Est-ce que tu m'as bien étudié ? Tu ne seras jamais, tu n'es qu'une wannabe. Comme une soeur foutue, qui va venir t'aider ? Tu peux passer à l'acte, même parler sans agir. Mais tu auras toujours deux temps de retard sur moi."
Un morceau qui va réanimer la guerre amicale entre Lady Gaga et Madonna ? Qui c'est ... Dans tout les cas cette chason est pré-senti comme second single. Mais les titres "Messiah" et "Heartbreak City" font aussi écho dans la rumeur du single qui prendra la suite de "Living for Love".
Affaire à suivre ...
Mise à jour : Guy Oseary le manager de Madonna nous informe via twiter que le titre "2 Steps Behind Me" ne concerne pas Lady Gaga et qu'il ne sera pas inclus dans l'album.On peut donc l'éliminer d'office des rumeurs du second single.

A new title has unfortunately fiter for "Rebel Heart" as a demo version it is "2 Steps Behind Me" produced by Aviici..

A track that will revive the friendly war between Lady Gaga and Madonna? Who is ... In any case this is pre-Chason felt like second single. But the title "Messiah" and "Heartbreak City" also echoes the rumor of the single that will result in "Living for Love".

To be continued ...

Updated : Guy Oseary Madonna's manager informs us on twiter that the title "2 Steps Behind Me" is not about Lady Gaga and it will not be included in the album.On can therefore eliminate motion rumors of the second single.