23 septembre 2014
2
23
/

09
/

septembre
/

2014
01:52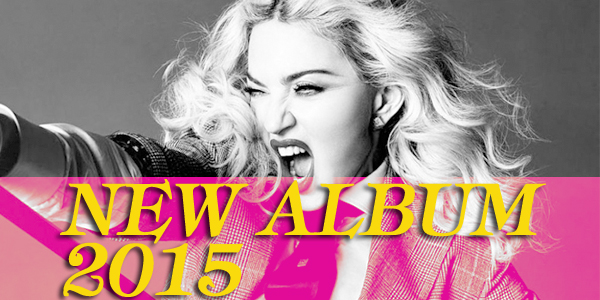 Mise à jour de l'article : Nous savons désormais que l'album est prévu pour début 2015 et que le 1er single produit par le Dj Diplo est quasiment bouclé. De nouveaux titres ont été révelés comme E=MC2 ou Veni Vidi Vici. Autre info deux nouveaux producteurs apparaissent dans la liste il s'agit de DJ Dahi & Blood Diamonds.
Updating

the article:

We now know

that the album

is scheduled for early

2015 and

the

first

single produced

by

DJ

Diplo

is

almost finished

.

New titles

were revealed

as

E =

MC2

Veni

Vidi

Vici

or

.

Other info

two new producers

are listed

they are

DJ

Dahi

& Blood

Diamonds

.
-------------------------------------------------------------------------------------------------------------------------------------------------------------------
Madonna et son nouvel album ne cessent d'enflammer la toile, entre rumeurs et informations fondées. Voici un recapitulatif des producteurs de l'album et des titres et démos déjà enregistrés par la Madonne.
Madonna and her new album continue to ignite the web, between rumors and information based. Here's a summary of producers Album titles and demos already recorded by Madonna.
Les Producteurs / The Producers

AVICII
MOZELLA

NATALIA KILLS

DIPLO

PHARRELL WILLIAMS

MARTIN KIERSZENBAUM

TOBY GAD

SYMBOLIC ONE

DISCLOSURE

DJ DAHI

BLOOD DIAMONDS


Les titres enregistrés / Tracks recorded
ICONIC - ILLUMINATI - HOLY WATER - CHAOS - JOAN OF ARC - ADDICTED (THE ONE THAT GOT AWAY) - WASH ALL OVER ME - HEARTBREAK CITY - WE ARE SUPERSTARS - LIVING FOR LOVE - BITCH I'M MADONNA - TWO STEPS BEHIND - INSIDE OUT - L'ART FOR FREEDOM - MESSIAH - SPECIAL DOG - UNAPOLOGETIC BITCH - AUTOTUNE BABY - REBEL HEART - DEVIL PRAYS - E=MC2 - VENI VEDI VICI
A travers ces titres déjà enregistrés (il y en a une quarantaine en tout) Madonna se livre sur sa rupture avec le danseur Brahim Zaibat et n'est pas très tendre avec ce dernier puisqu'elle se moque ouvertement de ses performances sexuelles et de son manque de fortune, Madonna aborde également sa "rivalité" avec Lady Gaga et d'autres chanteuses voulant s'aproprier la "recette Madonna".
Ce que l'on sait aussi pour le moment c'est qu'une majeur partie des titres sont très travaillés et matures mais pas forcément calibrés pour les diffusions radio. Une autre partie de ces titres est très commerciale et pas forcément en phase avec Madonna.
En espèrant que la Reine de la pop fera le bon choix dan cette quarantaine de chansons.

Through these titles already registered (there are about forty in all) Madonna book about his break with Brahim Zaibat and the dancer is not very tender with it since openly mocks his sexual performance and its lack of fortune, Madonna also addresses his "rivalry" with Lady Gaga and other singers wanting to aproprier the "recipe Madonna".

What we also know for now is that a major portion of the securities are very accurate and mature but not necessarily calibrated to the radio broadcasts. Another portion of these securities is very commercial and not necessarily in step with Madonna.

Hoping that the Queen of Pop will make the right choice this dan forty songs.